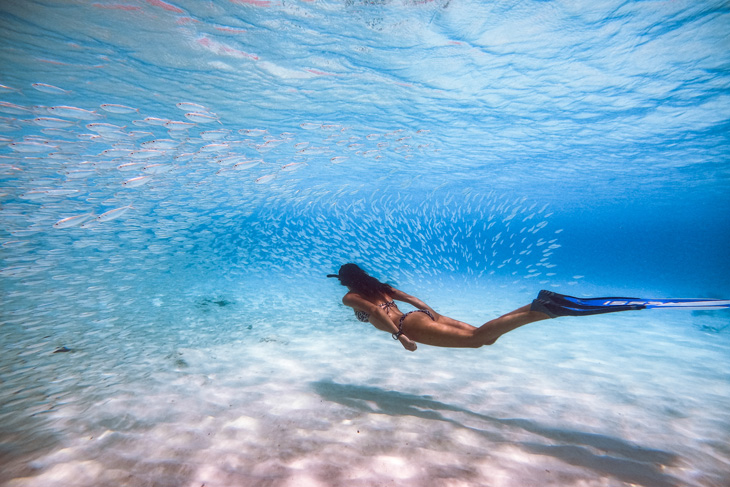 AIDA 2*
€ 429,-

This freediving course offers you the opportunity to explore the underwater world in a safe way. Freediving is an increasingly popular sport, and by taking this course you will understand why. In the AIDA 2* course you learn to hold your breath in a relaxed way and thereby extend your limits. You learn various freediving skills and learn the theoretical principles of freediving. You gain this knowledge and skills through a number of theory sessions and a number of confined water and open water sessions.
To participate in the AIDA 2* course you must be at least 18 years old (from 16/17 years old with parental or guardian consent). In addition, you are able to swim 200 meters non-stop without fins, or 300 meters non-stop with mask, snorkel and fins.
Coursedate 2023: April 13 & 20th (evenings). Depth session are scheduled with students during the course.
Course requirements:
Static dive of at least 2 minutes
Dynamic dive of at least 40 meters
Constant weight dive between 12-20 meters
Theory exam
The course consists of:
Two theory sessions
Four pool sessions
Three open water sessions
Stretching & breathing sessions
The course includes:
Certification fees
Theory manual
Exams
Freediving materials
Pool entrance fee
Video material
DAN insurance during the course (if desired, please state when registering)
The course is exclusive:
Entrance fee when open water sessions are given in a dive tower
Freediving materials:
We are dealer of Cressi freediving equipment. If you are looking for freediving materials and you need advice, we can help you with that.
Continue learning:
When you have passed the course you can enter the AIDA 3* course, where you will learn more advanced freediving techniques.