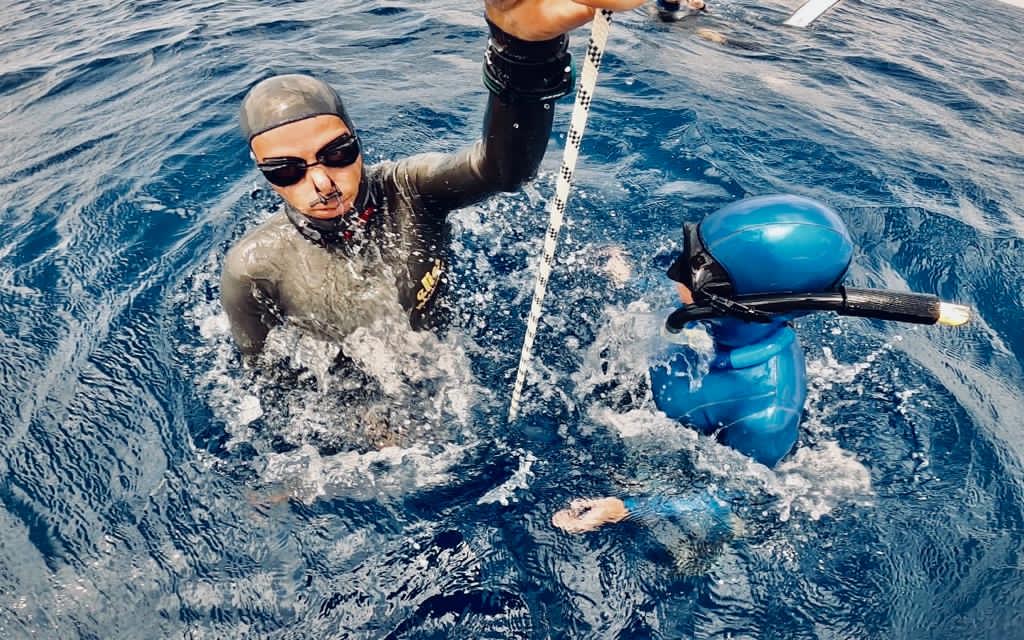 AIDA 3* advanced freediver
€ 429,-

The AIDA 3* advanced freediver course builds on the skills learned in the AIDA 2* freediver course. The aim of this course is to further develop your freediving skills and knowledge, which are necessary to independently plan freediving activities. The skills covered in this course include for example freefall, frenzel equalization technique, training tables, the risks of increasing and decreasing pressure during depth sessions and how best to minimize these. You gain this knowledge and skills through a number of theory sessions, confined and open water sessions.
To participate in the AIDA 3* course, you must be at least 18 years old (16/17 years with the consent of a parent or guardian). You have successfully completed the AIDA2* course or you are certified at an equivalent level with another teaching system (for example SSI, PADI, Molchanovs, Apnea Academy, etc.). If you are certified with another teaching system, you must follow an AIDA crossover before you can participate in the AIDA 3* course.
Course requirements:
Static dive of at least 2:45 min
Dynamic dive of at least 55 meters
Constant weight dive between 24-30 meters
Theory exam
The course consists of:
Three theory sessions
Four confined water sessions
Four open water sessions
Stretching and breathing sessions
The course includes:
Certification fees
Theory manual
Video material
The course is exclusive:
Entrance fee when open water session are given in a dive tower
Freediving materials
DAN insurance during the training
Freediving materials:
We are dealer of Cressi freediving equipment. If you are looking for freediving materials and you need advice, we can help you with that. In addition, it is possible to rent various materials for the duration of the course.
Continue learning:
When you have passed the course you can continue in the AIDA 4* course. The purpose of this course is to familiarize you with more advanced freediving techniques (such as FRC diving and mouthfill equalization) and knowledge and safety procedures for deeper diving.