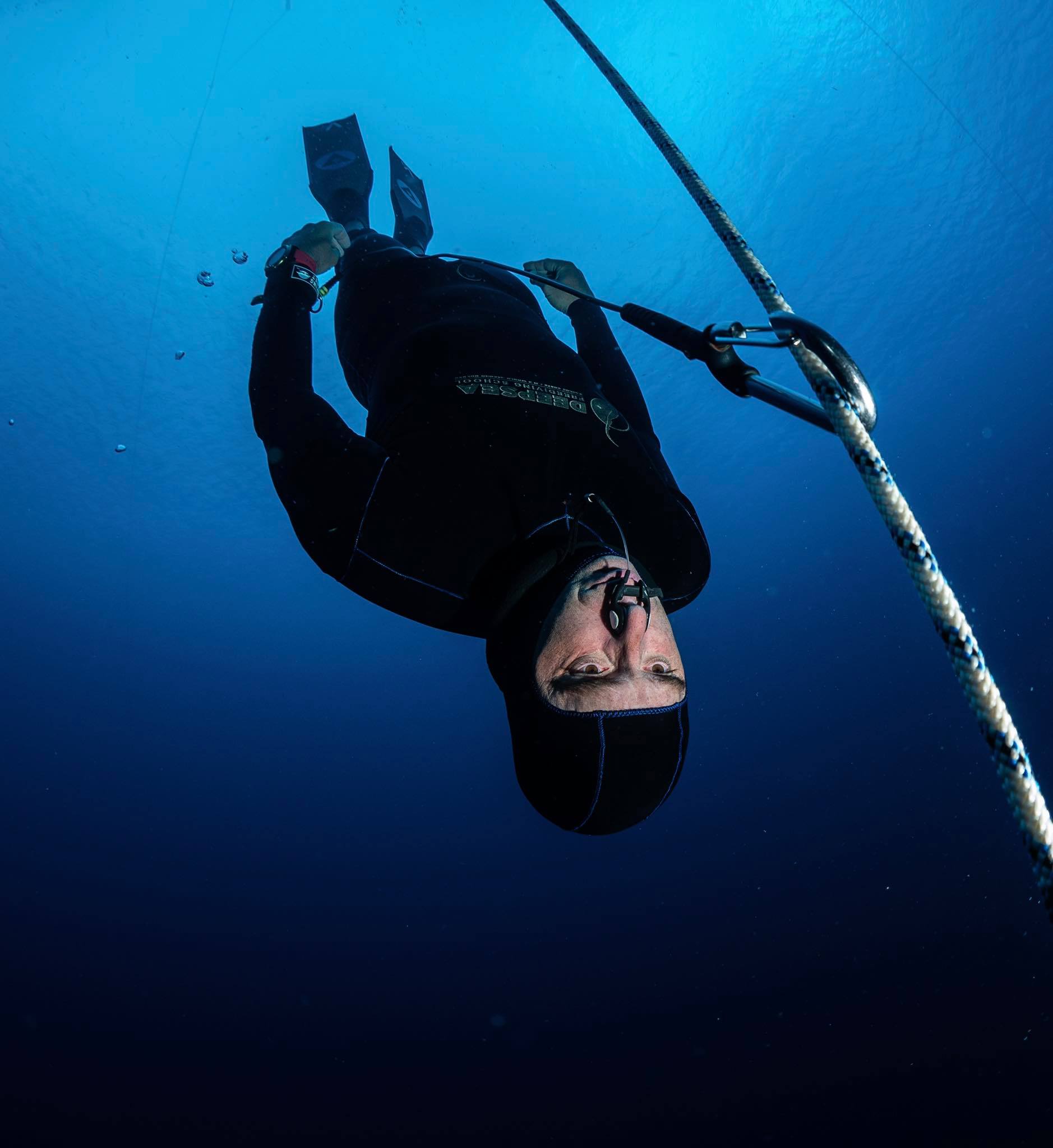 AIDA 4* master freediver
€539,-

The AIDA 4* master freediver course is the highest attainable training level in the context of recreational freediving. The aim of this course is to familiarize you with more advanced freediving techniques such as FRC diving and mouthfill equalization. In addition, you learn safety procedures for deeper diving and you gain even more theoretical knowledge about advanced topics within freediving. You will develop skills in various disciplines of freediving: STA, DYN, CWT, FIM and optionally VWT, although the main focus is on CWT. In addition to the inwater skills water, you will also become acquainted with providing warm-ups and body stretching, specific stretching of the respiratory muscles, various training concepts and nutrition; which will benefit your development in freediving.
Another purpose of this course is to prepare you for the "assistant instructor" role. This includes:
Provide a suitable warm-up session for confined and open water sessions.
Guiding of students of all training levels during their confined or open water sessions under supervision of an instructor.
Setting up and managing open water freediving equipment independently: using knots, adjusting the depth of the diving line and learning how to use additional freediving equipment responsibly.
To participate in this course you must be 18 years or older (or 16/17 years with parental/guardian consent). In addition, you have completed the AIDA 3 * course or you are in possession of another equivalent freedive certificate. You must have a valid first aid/EFR certificate (not older than two years)
Course requirements:
Static dive of 3:30
Dynamic dive of 70 meters
Constant weight dive between 32/38 meters
Theory exam
Leading a full warm-up/streching session
The course consists of:
Three theory sessions or self-study
Four confined water sessions
Four open water sessions
Leading a full warm-up/streching session
The course includes:
Certification fees
Theory manual
Video material
The course is exclusive:
Entrance fee when open water sessions are given in a diving tower
Freediving materials
DAN insurance during the course
Freediving materials:
We are dealer of Cressi freediving equipment. If you are looking for freediving materials and you need advice, we can help you. In addition, it is also possible to rent various materials during the training.